"University of Hertfordshire's Robot House is a crucial facility, unique within the UK and matched only by a few worldwide."

— Michael Fisher, Professor of Computer Science, University of Liverpool
The Robot House is open to external research groups and the industry in the UK and internationally since its opening in spring 2019.
Interested groups are invited to get in touch with our manager and research coordinator Dr Patrick Holthaus in the first instance to discuss their research aims, how the proposed studies can be adapted to the Robot House environment, and likely costs.
Researchers will then be asked to submit a formal application, which will be considered by a research committee comprising members of University of Hertfordshire's Adaptive Systems Research Group and leading researchers in the field of human-robot interaction from other institutions.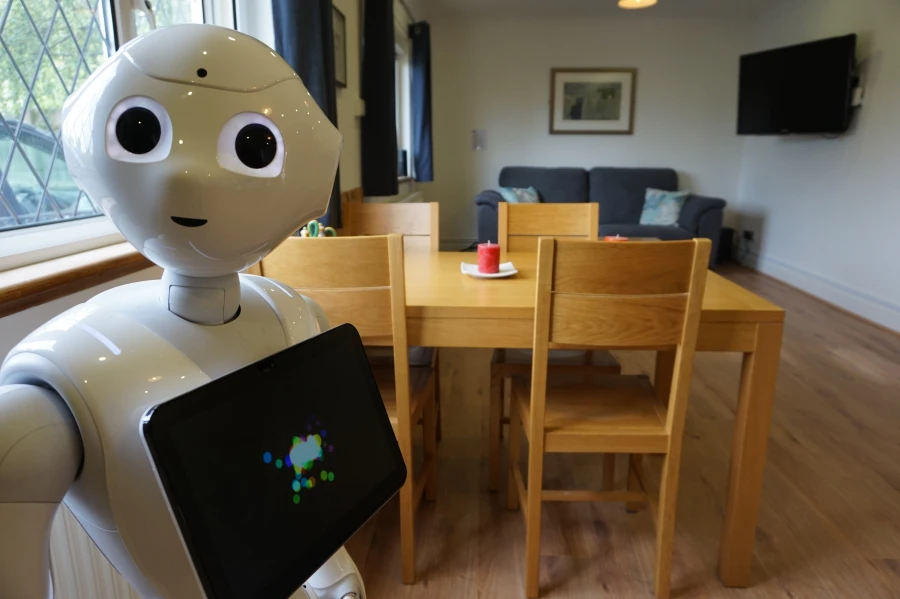 Research groups interested in collaborating in joint funding bids with University of Hertfordshire researchers that involves Robot House are also encouraged to contact us to discuss the details. Further possibilities for collaboration are international joint PhD programmes, e.g. with Western Sydney University, where postgraduate students use the facilities and are co-supervised by our team.
The Robot House team can provide users with technical software and hardware support in setting up and carrying out experimental studies. For each robot there is a virtual environment that enables external researchers to carry out programming and initial testing, and explore the robots' capabilities off site, before entering the facility to put preparations straight into practice.
Robot House is a unique facility for researching human-robot interaction. Find out more about its interior and equipment.
Meet the resident robots that can participate in research studies inside the Robot House, including the Care-O-bot 4.