Robot House has again been accepted as a part of Robot Lab Live 2023, virtual robotics showcase featuring the UK's top robotics research groups and the flagship event of the UK Festival of Robotics. Robot Lab Live is a mass simultaneous robotics livestream event on YouTube, featuring some of the UK's top robotics groups. During the 2-hour event on 4pm - 6pm on 21 June 2023, Robot House together with seven other teams show-off cutting-edge robots and autonomous systems to members of the public, offering the audience a chance to flick between demos. Last year's Robot Lab Live attracted thousands of live viewers on YouTube, with thousands more watching the playbacks later.
At Robot Lab Live 2023, we would like to invite you to join us in the Robot House and support the robot residents helping the team get ready for the summer holidays! While the team are packing their bags, you will be able to decide how the robots should support us, for example, planning the journey and what to pack, providing food or drinks, or informing our friends about our schedule. You will participate in an engaging and fun scenario while learning how our robots can interact with humans, how they work internally, and what research questions we address in such scenarios.
Watch the demo live on 21 June, 4pm - 6pm here.
We are a team of human-robot interaction researchers wo work with the Robot House. The demo team is led by Dr Patrick Holthaus who is also managing the facility. The core team will consist of a lecturer and two graduate students whose research projects are closely related to or facilitated by the robot house. Individual projects revolve around social robotics (e.g. personalisation) and assistive robotics (e.g. wearable technology) where we explore how to ensure robots' potential and their behaviours to act in a socially acceptable way and to engender trust among the people that interact with them. Many of our research projects are focused on investigating how robotics technologies can support independent living in later life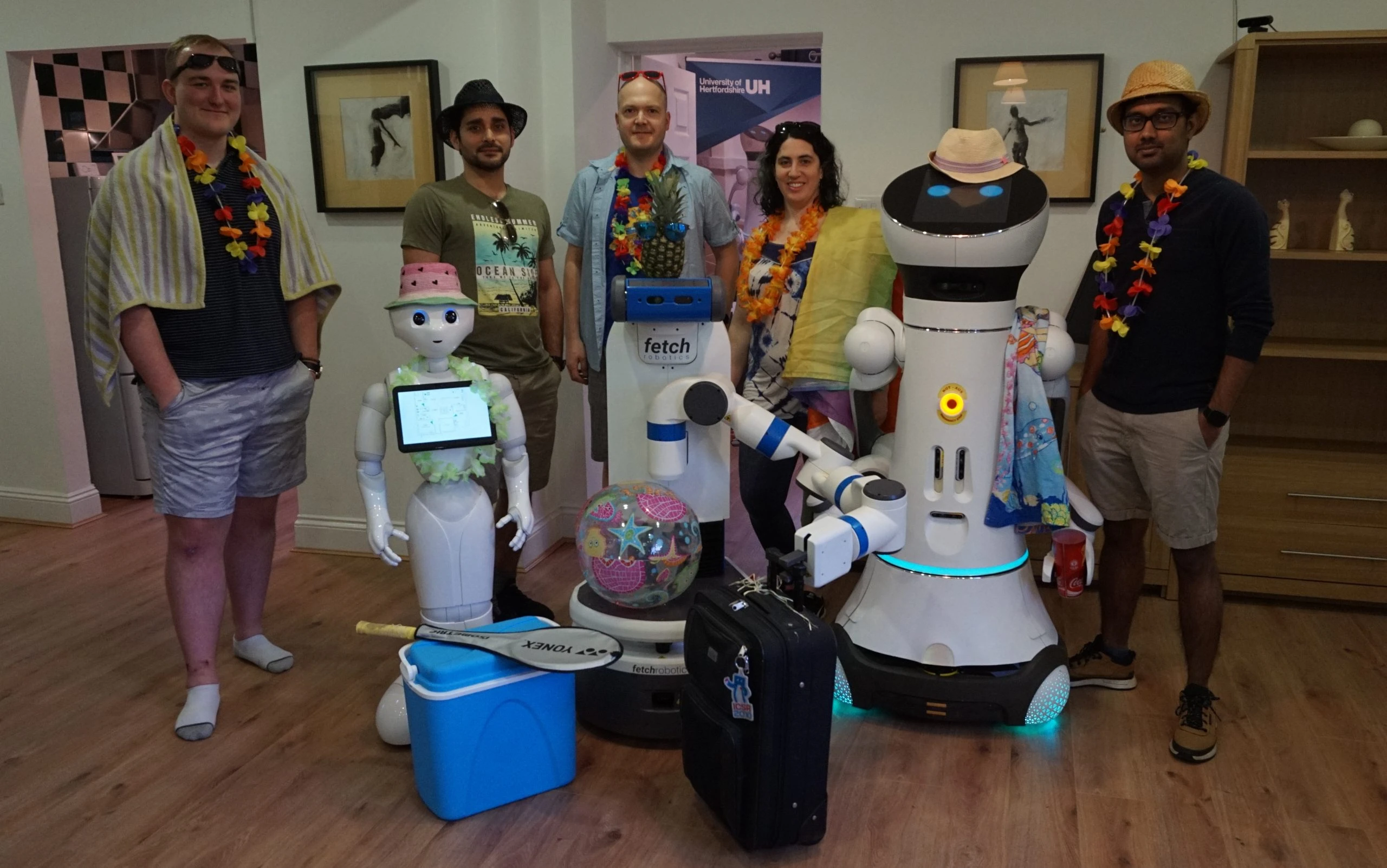 Read more about our team and find the live stream of our demonstration and all the teams on the UKRobotics YouTube channel.
Learn how Robot House has been covered by local, national, and international media.
Robot House has opened its doors to academia and industry in the UK and internationally. Find out how to access the facility.